Back to Our Team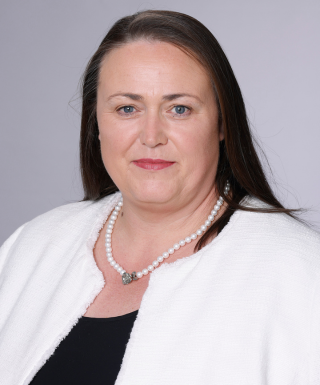 Bernie Guinan
Director of Waste and Resource Management and Environment
Bernie Guinan has over 20 years' experience in the waste management and environmental consultancy. She is the Director of the Waste and Environmental Science Divisions in FT. She has a BSc and a Master's in Environmental Science. Bernie has completed Diplomas in Pollution Assessment Control and Business Development. She is a Member of the Chartered Institution of Wastes Management.
Full Bio
---

Bernie Guinan is responsible for the Waste and Resource Management and Environmental Science Groups in FT, overseeing infrastructure design, preparation of Environmental Impact Assessment Reports, Planning Applications, Environmental Assessments, Public Procurement and statutory consent applications and compliance.
She has extensive experience in all aspects of project delivery from inception through the statutory process, detailed design, and procurement, preparation of contract documents, tender assessment and contract administration to preparation of final account.
She has extensive experience in working with private waste management clients acting in the designers' role in the preparation of DB/DBO tender submissions.
Bernie has acted as a Project Director for an extensive range of waste and resource management and environmental projects, including:
Powergen – Bord na Móna, Development of a Renewable Gas Project 2018-2020
Project Manager for the preparation of an EIAR, Planning Application and NIS for a 80,000 tpa anaerobic digestion facility, biomethane cleaning plant and gas to grid entry unit, junction upgrade on the R445 and an 1.5 km extension of the GNI local grid network.
Quirkes Quarries, Preparation of a Planning Application and EIAR, 2017-2020
Project Director for the preparation of an EIAR and Planning Application for the continuation of use of an existing quarry and the development of an 12 ha extension in Killarney, Co. Kerry.
Dublin Airport North Runway Development, Contaminated Land Assessment, 2017-Ongoing
Project Director involving the procurement and management of a comprehensive site investigation program for the investigation of areas of potential contamination and unregulated waste disposal within the development boundary at the Dublin Airport North Runway project. The project included the review of historic site investigation data over the 261 ha site and the subsequent application of geophysical survey methods to further investigate potential for areas of unregulated wase. Intrusive investigation comprised a borehole and trial pit based ground investigation on areas of potential contamination by the historical data review and geophysical surveys. FT managed and supervised all aspects of the investigations including the selection and scheduling of appropriate environmental testing suites including WAC analysis to allow for classification of waste present, identify wastes suitable for reuse and to determine routes for disposal off site where required.
Integrated Waste Management Plan for the Emirate of Abu Dhabi, 2015-2017
Project Manager for the above waste plan covering the period 2015 to 2040. The plan was the first country wide waste plan for Abu Dhabi and included legal and environmental review, waste characterisation and situational analysis, legacy waste issues and the strategy for and development of new waste facilities country wide for a pollution of 2.7 m people.
Jeddah Environmental Assessment (JEA) and Jeddah Environmental & Social Masterplan (JESMP), 2012-2014
Waste Management Team Leader for the JEA and JESMP which included environmental assessment and baseline establishment across 15 technical disciplines including Waste and Resource Management. The JESMP included 4 Response Plans which included the Waste Response Plan for the Governorate prepared by FT, the Waste Response Plan deals with MSW, Commercial and Industrial Waste, litter and street sweepings for a population of 4.5 m people.
Tier 1 and 2 Assessments, Unauthorised Landfill Remediation
Project Director for the preparation of Tier 1, Tier 2 and Tier 3 Environmental Risk Assessments and the preparation of remediation plans for historical landfills for Mayo, Galway, Tipperary, Longford, Monaghan, Meath, Carlow, Kilkenny, Wexford, Kerry, Fingal, Dublin City, Kildare, South Dublin and Leitrim County Councils.
Project Director for the preparation of the EIAR, SID Planning Application, NIS, Stakeholder Management, Client liaison and review and approval of the application for a waste infrastructure development for the acceptance of 440,000 tpa of waste.
Project Director for the preparation of an EIAR and Planning Application under the Roads Act for the development of 32 km for Greenway from Glenbeigh to Rennard.
Project Director responsible for the preparation of a response to the Environmental Protection Agency (EPA) relating to the recirculation of leachate in an MSW landfill. EPA requested classification of leachate to determine if it was hazardous or non-hazardous. This was the first classification of leachate in Ireland and the UK. Following classification, physical property testing was required in order to finalise the classification.  Landfill operator was given permission to use RP on site to treat leachate from this significant active landfill on foot of the classification.
Project Director for the preparation of an EIS, SID Planning Application and IE Licence Application for a MRF and waste transfer station to process up to 170,000 tpa MSW, brown bin and C&D wastes. The development comprised of a waste processed building, a baled storage building, welfare and office accommodation and ancillary infrastructure including surface and foul drainage. Planning was successfully granted by An Bord Pleanála.
Project Director the development of a scrap metal recycling facility (45,000 tpa) an RDF storage facility (45,000 tpa) including pre-application consultations, preliminary design, EIS, Stage 1 AA screening report, flood risk assessment and planning application. Permission was refused by Cork County Council but was successfully appealed by FT to An Bord Pleanála.
Project Director for the preparation of the strategic infrastructure application and EIS for the extension of the life of Powerstown Landfill, Co. Carlow. This site had a complex planning history and required significant liaison with the local authorities' senior council on the most appropriate way forward.
Project Director Landfill Technical Information Resource for the Environmental Protection Agency (EPA). Internal report and WIKI resource for EPA for reference and training purposes responsible for gas and leachate management related inputs. Internal Agency resource not published.
Provision of planning advice and expert witness to three local authorities to determine if planning applications and EIS's submitted were in accordance with the Planning & Development Acts, 2000-2018.
Project Director for the preparation of planning application, EIS, NIS and flood risk assessment for a 14 km pipeline route through Dublin City. A dual application to both Dublin City Council and Fingal County Council requiring over three years consultation with various sections of the local authorities on route selection and EIS scoping.
Project Director for the preparation of the soils, geology, water quality and waste selection of the EISs for the Metro North Depot, Metro Waste and BXD light rail schemes. Role included participation on scoping workshops and preparing expert witness testimony for the Metro West and BXD projects.
Project Director for wetland trials 2016 to ongoing at the Basketstown landfill that have showed it is possible to successfully treat contaminated groundwater arising from leachate from an unlined landfill using a combination of vertical wetland and MBBR technologies.  FT on behalf of Meath County Council is currently reviewing mechanisms to implement the findings in accordance with constraints imposed by whilst planning law and waste licence conditions.
Public procurement and civil/structural design advise in developing the conceptual specifications for buildings and MRF-plant on an existing waste site to be procured on a D&B basis for Glasgow City Council. Duties include development of the conceptual site layout to make best use of existing building assets, incorporate existing operational regime, value engineering and traffic assessment.
Project of the Fraddon Biogas Plant, Cornwall, UK. This project consists of the detailed design of an AD facility with gas to grid.