Fehily Timoney and Company announce the signing of a Memorandum of Understanding (MoU) with Intertek for planning, consenting and environmental-related services for the offshore renewable energy sector.
This MoU provides for continued strengthening of future cooperation between FT and Intertek in delivering the full planning and environmental solution to the offshore renewable energy sector.
"We are excited to take this important step with Intertek, which provides an opportunity to leverage the resources, strengths and talent of both companies," said Jim Hughes, Director of FT.  "By working with Intertek, we are reinforcing our companies' shared commitment to offshore energy projects".
Click here for FT's energy team and experience on energy projects.
Leaflet is available for download here.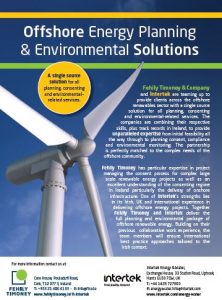 About Intertek Energy & Water
Intertek Energy & Water is part of Intertek Group plc, a Total Quality Assurance provider to clients worldwide. Intertek are a leading international consultancy providing specialist technical services in the marine, coastal & river environments and across the project life cycle. Intertek work with developers, operators, utilities, asset owners, lenders and government – primarily in the offshore renewables, marine cables, water utility, and oil & gas sectors. Intertek has an extensive (13+ year) track record in Ireland of providing environmental consultancy services to high-profile organisations in the private and public sectors, giving us an excellent understanding of Irish legislation and stakeholder concerns.
For more information, visit www.intertek.com/energy-water/.