New Ross Public Realm Advanced Works
Environment
Location:
New Ross, Wexford, Ireland
Client:
Wexford County Council
Status:
Advanced Works Complete
Overall Project Value:
Advanced Works €150,000
Brief Description
Wexford County Council (WCC) have commissioned Fehily Timoney and Company (FT) as designers on the demolition and redevelopment of the fuel depot in New Ross Town. The depot consists of 5 bulk fuel storage tanks and control building on a bunded site in the town. The site is to be develop into a high-quality public realm befitting the site central location in the town and proximity to the existing Dunbrody Visitor Centre, Plaza and Marina Walk.
The services required by WCC include environmental site investigations and reporting, decommissioning of the tanks and site certification, demolition design, preparation of Part VIII planning application and tender for the redevelopment of the site into the public realm. FT has appointed long term partners Brady Shipman Martin to assist with the proposed Landscape Design.
View More
Close
FT Responsibilities
FT's overall objectives of this project are as follows:
Decommission and remove the structures in a safe and environmentally sustainable manner
Design, tender and administer advanced works demolition tender
Providing landscape architectural/public realm design services for the project
Assessing the existing in‐situ constructed elements for their suitability to be integrated within the existing works
To maintain and improve the flood defences on the site to match existing defences
Architectural design services to enhance the public realm in the area by opening the river vista and access, complement the Great New Ross Riverside Walk
Identification of existing utility services to be decommissioned
Management of Civil and M&E contractor interface arrangement
Preparation of all contract documentation, procurement and tender administration
Contract Administration in GCCC form of contract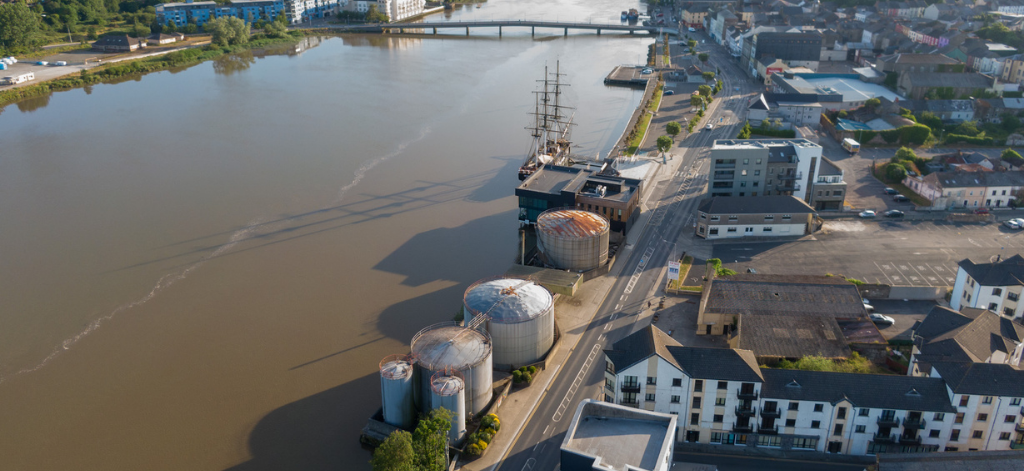 Project Statistics

5
Decommissioning and removal of 5 bulk fuel storage tanks

1845
The year the Dunbrody Famine Ship was built in Quebec, Canada

35
New Ross is home to the 35th President of the United States John F. Kennedy's great-grandfather Patrick Kennedy