26 Jun 2023
FT Celebrate INWED 2023
Overview
---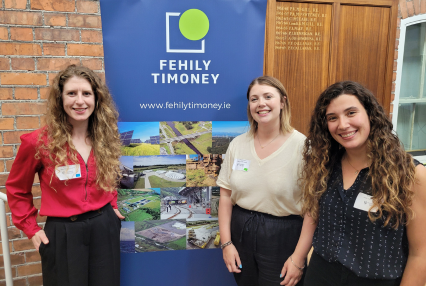 Fehily Timoney and Company (FT) proudly sponsored the Engineer's Ireland event Build Your Brand & Cultivate Your Career in celebration of International Women in Engineering Day 2023.
The event, organised by the Women in Engineering Group (WE Group), aimed to honour and celebrate the achievements of women in engineering while promoting the theme of personal development, safety, growth and collaboration.
The opening address included an emotive piece from Elida Sousa of Women's Aid (event charity partner), and a Safety Moment presented by Mary Foley of Foley Safety Solutions on the topical issue of PPE for women, "say no to pink it and shrink it". This was followed by an interactive Keynote Session with Dr. Celine Mullins of Adaptas, encouraging attendees to identify their strengths, values, and purpose in developing their personal brand. A panel discussion carried on the topics from the Keynote Session, led by event MC Carol Hunt of Arcadis DPS joined by Celine, Mary, Cora Sutton Smith of CS Consulting Group, and Kyrstyna Dimtchev of Arcadis DPS. The event was closed by WE Group Chairperson, Colette O'Shea of Aecom, and finished with networking and refreshments in the Clyde Road Café.
Alison Delahunty, FT Senior Geotechnical Engineer and Vice Chairperson of WE Group, said that the event was a great success with record numbers in attendance.
"We were delighted with attendance and the engagement from the audience. The sense of community and camaraderie cultivated during the event was so rewarding and we're excited about what's next for the group".
Alison was joined at the event by fellow FT colleagues Bruna Ferrari Filipe and Rebecca Furlong.
All proceeds from the event, expected to be upwards of €2,000, are being donated to Women's Aid.
To learn more about future WE Group events click here.